TARGA The Ultimate Time Trial 2020
Monday, December 30, 2019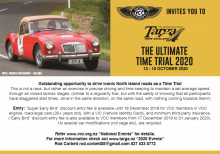 NZ Classic Car Issue 349 Dec 2019/Jan 2020, available Monday 9th December 2019:
Please refer advert attached for next year's event which appears in the next issue of NZ Classic Car, available from Monday 9th December 2019.
This is a "must buy/must read" issue, of which an extra 6,000 copies are being printed.
It comes with the 2020 calendar featuring pics of amazing classic cars, along with info re our 2019 VCC Time Trial and two brilliant articles written by two of this year's VCC Time Trial entrants.
Not to be missed!
Targa 2020 VCC Time Trial:
The route is still to be confirmed, but heads-up it will likely start from west/north of Auckland & head to Whangarei/Bay of Islands, before returning/skirting Auckland & over to the Coromandel before returning/finishing in Pukekohe.
Anne & I've got a planning meeting with Targa & the VCC in Christchurch Wednesday 11th December, & as soon as we know more I'll advise.
In the meantime, jump on-line & check out the "Super Early Bird" discount entry fee available via www.targa.nz "2020 Events".